Registration is required in order to receive Email Notifications, access the Online Directory of residents, and access Restricted Documents under the OPCCOA tab. This is to protect the privacy of the community.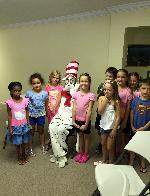 Story Hour at the Library
Click on the picture to
view the entire album
Today's Events
Tomorrow's Events

Current Conditions:
Partly Cloudy, 81 F
OPCC News & Events
A Message from Your
Board of Directors

There is a vacancy on the Board of Directors due to the resignation of Frank Knafelc. If you are interested in serving the remainder of this term (December 2016), please email a short bio/resume to our Property Manager, Susan Bailey at SBailey@marshlanding.org or stop by the Community Building and drop it in the drop box by Wednesday, August 5th. Candidates must be:

A member of the Association (property owner) in good standing and current on assessments

Able to attend monthly meetings

Willing to work together as a team

Able to place community interests above personal interests

Willing to take the state mandated board orientation class

Computer literate

A candidate will be chosen by the Board at the August 18th Board meeting and will begin serving immediately.

Interested in Writing an Article for the Newsletter?

Click Here for Tips and Deadlines

Deadline for submitting articles for the August issue is Friday, July 24th. Submit articles to Marilyn Mackin at marilyn472@aol.com. See the website for tips and production calendar.

Mah Jongg

Thursdays 1-4pm

Come join us on Thursdays from 1-4 in the Community Building. We are always looking for new participants and are willing to teach you the game.

Community Library

Tues w/ Randy 10am-12pm, Free Coffee & Donuts
Thursdays 2-4pm, Free Snacks & Beverages
Saturdays 11am-1pm, Free Snacks & Beverages

Stop on by, meet the librarians, check out the selection of books, chat with neighbors, grab a snack. You'll be glad you did!