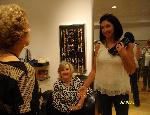 Ladies Luncheon & Fashion Show
Click on the picture to
view the entire album
Today's Events
Tomorrow's Events

Current Conditions:
Partly Cloudy, 74 F
OPCC News & Events
A Message From Your Board

An OPCC / Loch Rane Meet & Greet is scheduled forThursday April 2nd from 5 – 7 pm at the Club. ALL Residents are encouraged to attend. Please take the opportunity to meet your Board members, our County Commissioner, Wayne Bolla, Deputy Dean Jones of the Clay County Sheriff's Office Community Relations Unit and your neighbors. We want to hear your questions, concerns, suggestions. Complimentary Hors D'oeuvres & Beverages will be served and a Cash Bar available. The Club will be serving dinner during that time. RSVP required 458-1019.

From the Architectural Review Board (ARB)

Beginning April 21st ARB meetings will start at 5:00 (instead of 5:30) to provide more time between the ARB and BOD meetings so as to avoid parking issues.

Interested in Writing an Article for the Newsletter?

Click Here for Tips and Deadlines

Submit articles to Marilyn Mackin at marilyn472@aol.com.

Mah Jongg

Thursdays 1-4pm

Group meets in the community center. Teachers available for new players.

Community Library

Tues w/ Randy 10am-12pm, Free Coffee & Donuts
Thursdays 2-4pm, Free Snacks & Beverages
Saturdays 11am-1pm, Free Snacks & Beverages

Stop on by, meet the librarians, check out the selection of books, chat with neighbors, grab a snack. You will be glad you did.