Registration is required in order to receive Email Notifications, access the Online Directory of residents, and access Restricted Documents under the OPCCOA tab.  This is to protect the privacy of the community.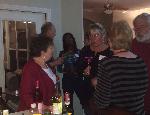 Neighborhood Social February 2016
Click on the picture to
view the entire album
Today's Events
Tomorrow's Events
OPCC News & Events
News from Your BOD

At the April BOD meeting we were advised that the community's financial status is good. The planned road repairs came in below budget and the Roads Committee is investigating additional work that can be done now rather than be delayed. Look for that work to begin shortly. The repair work on the sign at the roundabout is still being reviewed. We should hear more about it at the next meeting. The ARB dealt with 20 applications in March. The community fining policy was discussed. Policy

allows for fines of $100/day up to $1000. If you are notified that you are in violation, avoid the fines by correcting the problem immediately. The mandated annual audit was approved and by now you should have received written notification of such and information as to how to request a copy should you desire one.

The OPCC/Loch Rane Community Yard Sale will be Saturday, May 14th. Applications are due no later than May 10th. Click here to access the application form. It is also available in the May issue of the Living magazine copies of which are at the Community Building.

The Eagle Scout project by Brian Christ of Troop 321 has now been completed. In

January

the BOD approved the construction of a kiosk to be placed on the Audubon Society land that is accessible from the vacant lot between 2908 and 2922 Country Club Blvd. The kiosk will house information about the Audubon Society, the Crosby

Sanctuary

and the walking trails. This is a real plus for our community as we can now access the trails right here in our community. The 510 acres of swamp and hammocks called Crosby Sanctuary is home to a full biodiversity of native plants, mammals, birds, reptiles, amphibians and invertebrates.

Landscape Committee Meeting

Tuesday, May 10th at 2:30
at the Community Building

Bingo

Thursday, May 12th from 6:45 – 9 pm
in the Community Building

Just show up – new players are welcome!

OPCC ARB Meeting

Tuesday, May 17th at 5:00 pm
in the Community Building

Any resident planning an exterior alteration to their property ie: painting, new roof, landscaping, etc. should contact our Property Manager, Susan Bailey at 273-3033 for details and to be included in the ARB agenda. Please be advised that walk-in requests will be handled only after scheduled requests as time allows. The paperwork required by the ARB is called the "Alteration Package". This is available at the community building and on our website.

OPCC Board Meeting

Tuesday, May 17th at 6:30 pm
in the Community Building

Come find out what is going on in the neighborhood. If the parking lot is full, parking is available at the Advent Lutheran Church just outside the gate. ALL residents are welcome!

Community Ladies Luncheon at the Club
Open to All Ladies of OPCC & Loch Rane & Their Guests

Wednesday, May 18th
check in at 11:30 – Lunch served at noon - $14.

Please join hostesses, Ginny Pierce and Nancy Zambie, who ask that you come with ideas to share for themes, speakers, guests, etc. for the 2016-17 luncheons. There will be a salad buffet followed by a lovely dessert. Please don't miss our final luncheon of the season! RSVP by Sunday, May 15th to Nancy Zambie at 904-264-4079 or nzambie@comcast.net.

OPCC/Loch Rane Steering Meeting

Thursday, May 19th at 6 pm
in the Community Building

Neighborhood Social

Saturday, May 21st at 7 pm
at the home of Stephen and Sharon Willett
at 2669 Country Club Blvd

Bring a beverage of choice, glasses and an hors d'oeuvres or dessert to share. Come enjoy being with your friends and neighbors. There is always great conversation and a wonderful selection of munchies. RSVP to Lorrie Krenek at 375-9112 or lorriekrenek@aol.com

Interested in Writing an Article for the Newsletter?

Click Here for Tips and Deadlines

Articles due Friday, May 20th for the July Issue to Marilyn Mackin at marilyn472@aol.com.

Bunko

Thursday, May 26th from 6:45 – 9 pm
at the Community Building

ALL residents are welcome!

Mah Jongg

Thursdays 1-4pm
in the Community Building

We are always looking for new participants and are willing to teach you the game.

Community Library

Tues w/ Randy 10am-12pm, Free Coffee & Donuts
Thursdays 2-4pm, Free Snacks & Beverages
Saturdays 11am-1pm, Free Snacks & Beverages

Stop on by, meet the librarians, check out the selection of books, chat with neighbors, grab a snack. You'll be glad you did!