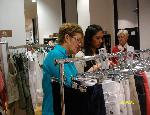 Ladies Luncheon & Fashion Show
Click on the picture to
view the entire album
Today's Events
Tomorrow's Events

Current Conditions:
Mostly Cloudy, 64 F
OPCC News & Events
A Message From Your Board

Recently, members of the OPCC BOD met with Sole Management to discuss community issues. The Club will open the pool at its normal seasonal opening on March 21st. The mailboxes will remain at their current location. Both groups pledged to continue working together for the betterment of the community.

Interested in Writing an Article for the Newsletter?

Click Here for Tips and Deadlines

Submit articles to Marilyn Mackin at marilyn472@aol.com.

Fine Art & Jewelry Auction

Monday, March 2nd
at the Club
Preview begins at 10:30 am. Auction starts at 11:00am.

It will feature fine art, diamond and color stone jewelry, bronzes, hand woven rugs and more and will include liquidation items such as seized assets, foreclosure pieces and estate pieces. The number to call for more information is 321-610-3767.


Endless Pasta Bowl

Tuesday, March 3rd
at the Club

This all you can eat pasta extravaganza will include choice of marinara sauce, alfredo sauce or a delicious meat sauce for only $1 more. Dinner includes garden salad and garlic bread and as much pasta as you can enjoy. $8.95 price per person.

Open to ALL Residents. RSVP required 458-1019


Mah Jongg

Thursdays 1-4pm

Group meets in the community center. Teachers available for new players.

Community Library

Tues w/ Randy 10am-12pm, Free Coffee & Donuts
Thursdays 2-4pm, Free Snacks & Beverages
Saturdays 11am-1pm, Free Snacks & Beverages

Stop on by, meet the librarians, check out the selection of books, chat with neighbors, grab a snack. You will be glad you did.