Registration is required in order to receive Email Notifications, access the Online Directory of residents, and access Restricted Documents under the OPCCOA tab. This is to protect the privacy of the community.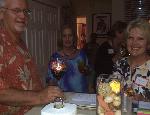 Neighborhood Social February 2016
Click on the picture to
view the entire album
Today's Events
Tomorrow's Events
OPCC News & Events
News from Your BOD

SUPPORT OUR TROOPS! Under the leadership of Wayne Gullett, we are asking for the community to make donations for "Care Boxes" to be sent to forward deployed soldiers and sailors. Most of us do not realize the sparse conditions our military endure while serving in remote areas. There is a large container in the community building where you can deposit your contributions. Contributions can be made from now until the end of August. For more information about the project and the Care Box Items needed please click here.

OPCC/Loch Rane Steering Meeting

Thursday, July 21st at 6 pm
at the Community Building

Interested in Writing an Article for the Newsletter?

Click Here for Tips and Deadlines

Articles due Friday, July 22nd for the September Issue to Marilyn Mackin at marilyn472@aol.com.

Story Hour at the Library

Saturday, July 23rd at 11 am
at the Community Building

Bring your kids and grandkids. Meet Curious George (in costume). We'll read Curious George and other stories, and have some activities and prizes and enjoy some snacks. Hope you'll join us!


Bunko

Thursday, July 28th from 6:45 – 9 pm
at the Community Building

ALL residents are welcome!

Mah Jongg

Thursdays 1-4pm
in the Community Building

We are always looking for new participants and are willing to teach you the game.

Community Library

Tues w/ Randy 10am-12pm, Free Coffee & Donuts
Thursdays 2-4pm, Free Snacks & Beverages
Saturdays 11am-1pm, Free Snacks & Beverages

Stop on by, meet the librarians, check out the selection of books, chat with neighbors, grab a snack. You'll be glad you did!